2020
Coronavirus
2020 started as normal: we put three dates in the diary for concerts later in the year, and began discussing what we might play, and practising our favourite pieces. We had a couple of practices at the beginning of March, but on 23rd March the Prime Minister announced the national lockdown to protect the NHS and save lives and so we had to cancel all forthcoming practices. We hoped that we might get back together later in the year, and even had plans in September for a socially distanced practice in the Church Hall. However before we could meet, the virus flared up again, and further restrictions were introduced by the government. We had to abandon our plans to get together, and now in January 2021 we are looking at further restrictive lockdowns and no prospect of a bell practice within the foreseeable future.
2018
End of Term Tea Party
A delicious tea party concluded our rehearsals this summer. We finished a busy term with some fun bell ringing "games", playing bells that were not our usual ones, doing a "cross and stretch" routine to play the peal "Plain Hunt" and learning to play with a backing track. After that we enjoyed tea poured from silver tea pots into cups with saucers. We shared a great array of food brought by everyone. This term has seen some or all of us involved in ringing for the SE Region Bell Orchestra concert in Redhill, in a concert with the SAS Ringers in our own church hall, entertaining the folk at Red Court, residential home, and attending a turkey and tinsel rally organised by the Wandle ringers. Which of course put us right in the mood to start practising for Christmas.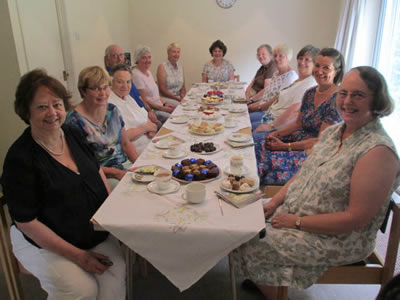 AGM Rally 2018
A group of 2 O'Clock Bells ringers attended the HRGBSE region AGM rally at de Stafford School in Caterham. We enjoyed ringing the massed ringing pieces: "Cwm Rhonda", "Spring" from "The Four Seasons", "Danse Macabre" and "We've got Rhythm". We also played two solo pieces, "The Water is Wide" and "All Things Bright and Beautiful". Here is a photo of us all concentrating very hard while playing "The Water is Wide".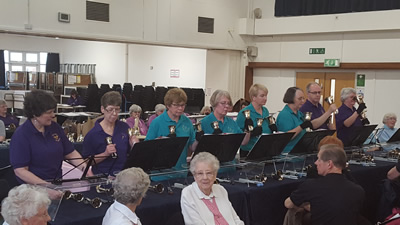 Many thanks to "Hat Band" ringers for organising a very enjoyable event.
Goodbye and Thank you
At the end of 2017 we said a huge thank you and goodbye to Sandra for 20 years of amazing bell ringing. 20 years since the 2 O'Clock Bells first met in her front room, 20 years of fun, laughter, learning, expertise, musicianship, entertainment, friendship and much more. Turning a bunch of non musicians (most of us), into a team that has been asked to perform in some very special and varied places - St Paul's Cathedral, Southwark Catherdral, the Queen's Chapel of the Savoy, the Royal Hospital Chelsea, Sanderstead Station, and for some very special people in Residential homes, townswomen's guilds, Rotary groups, blind clubs... We would never have had the opportunity to discover our abilities if Sandra had not taught and guided us to become competent bell ringers. She hasn't gone far but she has handed the team over into the tender care of Angela J, and we look forward to continuing to learn, enjoy, laugh and perform our music under her leadership for many more years to come.
2017
Summer concerts
We have had two big events this summer. The first was a concert in which both the SAS Ringers and the 2 O'Clock Bells took part. We played a varied programme of music, and Sandra and Angela also showed their prowess playing some Gershwin as a duet. We were delighted that a large audience joined us so that extra chairs had to be put out, and we all enjoyed a traditional bell tea in the middle of the performance. We also raised funds for the church flower fund.
The next event was a rally that the 2 O'Clock Bells hosted - with Sandra's guidance. We chose to call it a "Hymnfest", and the 100 ringers in the hall belted out old favourites such as "Onward Christian Soldiers" and "For all the Saints". Another sumptuous tea was provided - we're getting good at this now; Lynne's brownies were particularly enjoyed and the recipe has been passed round.
2016
Sketching bell ringers

On Monday 13th June we entertained a group of residents at Red Court residential home in Croydon, and were delighted to discover at the end that one very talented member of the audience had been sketching us during the performance, and was kind enough to let us have a copy of his sketch. Many thanks to Henry Stephenson, and to Red Court for inviting us back to play for them again.
Playing for the Chelsea Pensioners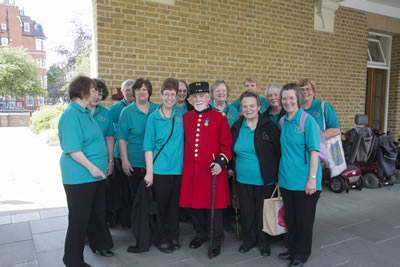 One of the volunteers who helps at the Royal Hospital Chelsea, heard the 2 O'Clock Bells playing last year and thought it would be lovely if we could entertain the Chelsea Pensioners in their home in London. We were delighted to oblige, and on May 16th we headed up to town with our bells to perform a selection of folk tunes arranged by Sandra to an audience of Chelsea Pensioners as well as a good number of interested staff and volunteers - and we even managed to snap a photo with one of the Chelsea Pensioners in his bright red uniform.
2015
The Christmas Concerts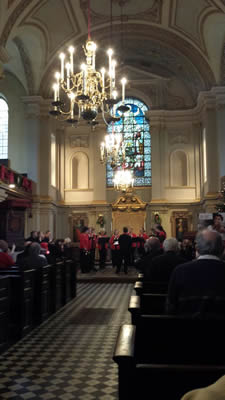 Bell ringers are always in demand over the run up to Christmas, and we always try to add some new items to our Christmas programme, along with the old favourite Christmas Carols. This year we have learnt "On a Still Silent Night" by Michael E Akers, and "O, Come let us Adore Him" by Arnold B Sherman". We visit our regular bookings at Tudor House and The Red Court nursing homes, We played for the Phoenix retirement group in Crystal Palace. We were delighted to be invited to play for the Southwark Diocesan Mothers' Union, Advent Carol Service in Southwark Cathedral, and for the Leprosy Mission annual Carol Service in St Giles in the Fields in central London - that's where the picture was taken. We also have a couple of local bookings in our own parish. We are entertaining visitors to St Mary's Christmas Tree festival and playing at the Carol Service in our own church, All Saints Sanderstead.
Playing for the Holy Family Church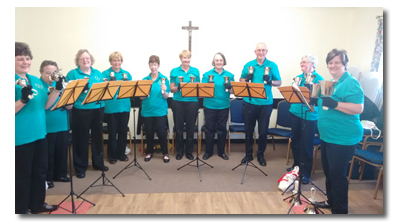 At the end of September we entertained a group of people from the Holy Family Church in Sanderstead. We played a selection of folk songs from around the country, and a couple from abroad. The audience was very appreciative and sang along with gusto.
Four concerts in nine days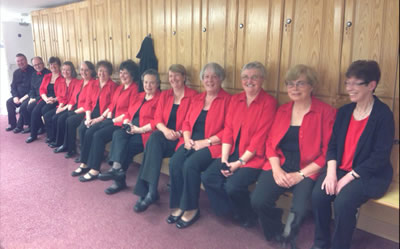 All ready to entertain the Rotarians
At the beginning of the year it seemed like a good idea. Two weekends in May and we'd have all our performances done and dusted altogether, we could even use the same music for the different audiences. But when the time came it was a lot of bell ringing all at once. Saturday 16th saw us at Holy Trinity Redhill to help celebrate their Mothers' Union Centenary. We performed an hour long concert in the church, to an appreciative audience, who were very interested in the bells afterwards, and wondered how we got so many notes out of a bell - they're all tuned differently of course! On Sunday 17th we were back in All Saints for the Purley Music Makers, as part of their afternoon entertainment, and replayed five of the pieces from the previous day. A serious audience who clapped politely. The following Saturday saw us at the Selsdon Park Hotel entertaining 150 international rotarians at their gala dinner. We played a selection of folk songs in two medleys composed by Sandra, as well as the Eurovision theme tune, Charpentier's "Prelude to a Te Deum", and the European anthem, Beethoven's "Ode To Joy". A very enthusiastic audience sang along to the music and stood up for the European Anthem. Finally on Sunday we were back in All Saints for a special Pentecost Service with the Bishop of Southwark, Rt Rev Christopher Chessun, who was invited to bless the completion of the building work in the church, and the beautiful church door. Angela had composed two pieces for choir and handbells especially for the occasion: an introit "Be exalted o God" and a peace, "Peace of God be with you". And then a chance to relax, before we're back to work next week and preparing for Christmas - in June!
2014
At the Literary Society
Our first concert for 2014, was held at Bromley URC, for the Bromley Literary Society. Sadly for them, our performance was their final meeting after 88 years. We do hope that we made it a memorable occasion for them. We played a mixed programme of music, combining hymn tunes with secular music, and meditative items with some lively tunes, and showing off the many techinques possible with handbells.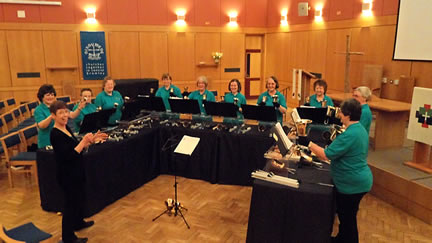 Tony had his camera with him and took this photo of us all before the concert began.
2013
Christmas 2013
One down seven to go. Our first concert for this Christmas season, saw us taking the bells up to London for our annual performance with the Tredici Choir at St Giles in the Fields for the Leprosy Mission annual carol service. We began the service with a medley of carols arranged by Sandra Winter, and then joined with the choir for a stirring performance of the Coventry Carol, arranged for choir and handbells by Steve Pilkington, finally we played everyone out with arrangements of "Good King Wenceslas", and "We wish you a merry Christmas".
Christmas concert no. 2; Tudor House, an old favourite, one of the first places we played out at. Christmas carols to sing along to, and also a chance to have a "soft" rehearsal of the pieces for our next performance...
Christmas concerts 3 and 4 were on the same day. In the afternoon we played for the Southwark Diocese Mothers' Union Advent Service, in the presence of the Bishop of Croydon. He exhorted us in his address not to be in a hurry to anticipate Christmas but to wait on God for the right time. We began the service with the carol medley arranged by Sandra, and as part of the service we played the haunting tune of "'twas in the moon of wintertime" arranged by Cathy Moklebust. That same evening we were playing in very different surroundings for the local Waitrose in Sanderstead who were having their Christmas shopping evening. Together with All Saints' choir we sang and rang for 2 1/2 hours, and when we weren't singing or ringing we were able to sample the delicious food and drink that was on offer around the store.
Another two concerts today, numbers 5 and 6. 5 was in the afternoon at Red Court Residential home, another very hot venue. We played a selection of Christmas carols to a very appreciative audience, who rattled their bells enthusiastically to everything we played. An opportunity for the Christmas hats and the reindeer earmuffs to be worn. Concert 6 was a brief performance in the All Saints, Sanderstead home grown "Christmas for all" performance in aid of mission charities. Amongst other peoples' party pieces, poems and monologues we played John Julius Norwich's "Twelve Days of Christmas", "letters from Emily" read by Sandra to the accompaniment of bells and many animal noise making machines distributed to the audience.
For concert no. 7 we were back in London, for, as Sandra put it "...probably, your scariest one yet – there is nothing worse than an absolutely SILENT audience, listening so intently and so quietly that you can hear a pin drop – and also every breath you take, probably felt your heart thumping a bit as well!!" The Tredici choir had invited us to join with them in repeating the Coventry Carol that we had performed in St Giles, this time in the beautiful Queen's Chapel of the Savoy, one of the hidden gems of London, which has been there since 1512. The concert was produced by "Brandenburg" in aid of the Backcare Trust. As well as the Coventry Carol we also had the opportunity to play four other pieces during the concert, and were delighted with the positive comments and applause from the audience. The journey home in torrential rain and a howling gale was not so enjoyable.
Last one, and on home territory. We were back at All Saints for the nine lessons and carols, we played for twenty minutes before the service as everyone was arriving, a packed church this year and the stewards had to get out more chairs from the hall. We played "Good King Wenceslas" arranged by Karen Roth and "In the Bleak Mid Winter" arranged by Sandra Eithun, and then the carol medley, with repeats, arranged by Sandra Winter. For the prayers Myrtle read words written by Angela to the accompaniment of the bells playing "I wonder as I wander". A very moving end to an Advent full of bell music.
Wedding Bells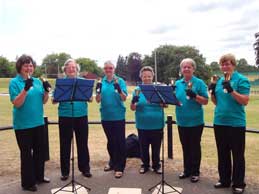 When Bridegroom Paulo asked for bells to be rung at his wedding to Rebecca, he had in mind swinging tower bells, but the chapel of Epsom College in Surrey had no such bells, and so his soon to be Grandmother-in-law, suggested the "next best thing" or was it an improvement? She'd heard the Sanderstead Handbell ringers, and hoped that we might be able to stand in for the missing tower bells. The 2 O'Clock Bells were delighted to help, and six of us rang Angela Jones' s specially composed "Wedding Peal" as Paulo and Rebecca came out of church in a shower of rose petals.
The photo was very kindly taken by one of the young boys attending the wedding. We have yet to get hold of a picture of the Bride and Groom who were of course the important people on the day.
2012
Martin How's Advent Cantata
The 2 O'Clock Bells were very pleased to be asked to contribute to the world premier of an Advent Cantata written by composer Martin How.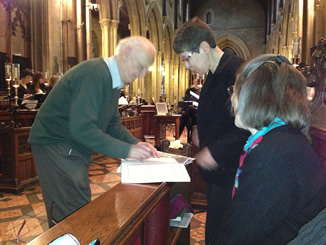 Sandra Winter composed two parts of the Cantata which we played in the first performance which was held in Croydon Minster on Saturday 24th November 2012. Our bell team opened the whole performance with a Cantata, and later played a bell peal to hail the nativity as the Canatata chronicled the advent story.
In the picture, Martin How autographs our copy of the score for Sandra Winter and Ann Turner.
All The Bells
The 2 O'Clock Bells took part in a performance of Martin Creed's Work no 1197, "All the bells in a country to be rung as quickly and as loudly as possible for three minutes"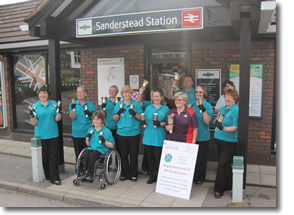 We chose the spot in Sanderstead where most people were likely to hear us at 8.12 am on a Friday morning, and that was at Sanderstead Station. We got permission from the station staff to perform there, and set up outside the station with music stands and books of folk tunes arranged by Sandra. We rang folk tunes to amused and interested commuters, and some even applauded.
At the appropriate time of 8.12 am we stopped the folk tunes and rang as loudly and as quickly as possible, and everyone who had come along to support us rang their bells as well. You can see the video of that on our 2012 Concerts page.
It was qreat fun to be part of the opening of the Olympic Games celebrations, and IT DIDN'T RAIN.
St Paul's Cathedral
We were delighted to be invited back by not only the London Diocese of the Mothers' Union, but also the Dean and Chapter of St Pauls Cathedral to play again during the Mothers' Union annual Festival Service.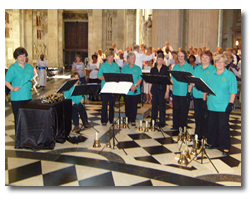 Again we were able to transport our equipment and five ringers by car, and park right beside the walls of the Cathedral. We set up our bells whilst the choir was practising, and then we were able to have a brief practice of the introit specially written for the occasion by Angela Jones. She used the techinque of "singing bells" using a wooden batten, to encircle the bells and create an ethereal humming noise that grew louder and louder. On top of this the higher bells played a repeating tune, with the highest notes played by Angela using a bell tree technique.
We played our introit whilst the clergy and choir made their way into their places, and then joined in the service until it was time to play our solo items. First of all we played Valerie Stephenson's arrangement of "Simple Gifts", and then, after the intercessions, we played Sandra Winter's arrangement of "Give Thanks with a grateful heart", and were delighted to hear the congregation humming along with the tune.
The sound of the bells and all the singing reverberated around the great dome of the Cathedral, and made a memorable event for the bell ringers, which we were proud to have been asked to take part in.
Ju-Bell-ee Concert
The SAS Ringers and the Sanderstead 2 O'Clock Bells joined forces on Sunday 24th June, to put on a concert as their celebration of the Queen's Diamond Jubilee.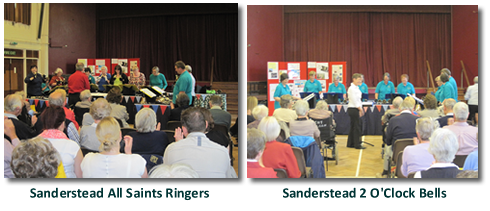 We played a selection of our favourite pieces including "Proclamation" by Kevin McChesney, and a rousing "Ode to Joy" arranged by Sandra Winter to finish. The 2 O'Clock Bells, at last, after many years of practice performed "Phantom of the Opera, by Andrew Lloyd Webber, arranged by Douglas E Wagner, and hope that the audience enjoyed it as much as we did performing it. Strauss' "Pizzicato Polka" arranged by Sandra Winter and malletted throughout had everyone tapping along.
After the concert everyone enjoyed a splendid tea, and a retiring collection raised £200 which was divided between Church funds, and the bell teams funds.
2011
2 O'Clock Bells ring with the Tredici Choir
With a busy fortnight of playing Christmas carols in the run up to Christmas, the highlight of the season for the 2 O'Clock bells was a chance to play in central London for The Leprosy Mission annual Carol Service.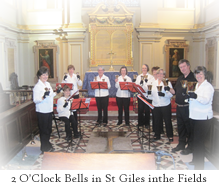 The service was held in St Giles in the Fields church near Centrepoint at the top of Charing Cross Road. Half the team were able to arrive by car with the equipment whilst the rest travelled by train and fortified themselves with a cup of coffee in Starbucks before reaching the church.
We had been practising our part in Steve Pilkington's arrangement of the Coventry Carol for several weeks until we knew our repeated bars off by heart, and with the Tredici Choir behind us it sounded fabulous. We had a brief rehearsal and then the service began.
The acoustics in the church gave all the singing and the bell ringing a very mellow sound and we were pleased with our performance, playing a selection of Christmas carols before and after the service, and playing with the choir for the Coventry Carol.
We were delighted to have been able to take part in the service, and to have helped with the Christmas fundraising for The Leprosy Mission
2010
2 O'Clock Bells play in St Paul's Cathedral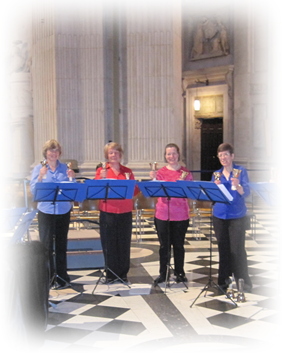 One of our members, Rosemary, is the World Wide President of the Mothers' Union, and is frequently asked to preach in some very important places around the world. This time, the London Diocese Mothers' Union invited her to preach at the Festival Service in their diocesan Cathedral, which happens to be St Paul's Cathedral in the city of London. Rosemary was delighted to accept their invitation, and asked whether she could bring the rest of the bell team with her to play at the service. Which was how the 2 O'clock Bells came to be processing through the biggest Cathedral in the country playing a processional composed especially for the occasion by Sandra.
We arrived at the Cathedral in good time, with one contingent being given special permission to park a car right beside the Cathedral, and congregated in the crypt, and after a bit of confusion about where we were actually allowed to wait, and whether they would ever finish cleaning the ladies and let us in, we made our way into the spectacular enormous centre of the church, right beneath the dome. We listened to the choir rehearsal and then had one practice processing, and ran through our piece, before a final quick bite to eat in the crypt and the service began.
Everything went well, we processed behind the cross and ahead of the choir, playing our Celebration Processional, and kept in time with each other despite the echo, which played our notes over and over again around the dome. We took part in the service, and Rosemary preached a very good sermon along the current Mothers' Union theme of "Relationships not rules". Just before the last hymn we all took up our bells again to play "Spirit of the Living God" arranged by Douglas E Wagner. Very slowly to let all the notes bounce around the Cathedral and not run into each other, and it sounded brilliant, and we were delighted to have played in such an exalted setting.
We're sorry that Rosemary was too busy greeting Mothers' Union members to be in the pictures, but we know she was there and played with us in both pieces.
2009
Little Bells
In the summer of 2009 we had raised enough money to buy 5 more little bells for the treble ringers to play. Now we will have that top G that we always needed.
October 2008
How we got the money for our new bass chimes
We started playing the song "God forgave my Sin" which is the song that includes the words "freely, freely, you have received, freely, freely give" and soon realised that to play it properly we would need some more bass chimes to cover the lower notes. Soon after that Penny was taking part in a discussion at her House Group and the question came up "If you won £500 what would you spend it on?", without a moment's hesitation Penny said "Large chime bars!"
Three days later, through the Penny's letter box came Premium Bond cheques for £150, and Penny knew just what she should do with them. She says "it was as if Jesus was standing right there in the kitchen with me smiling and saying, "you know that £100 win you had last month and haven't spent yet...". She rang Sandra to ask if £250 would be enough and it was pretty much exactly what was needed!!
Penny says "One or two people have told me I'm generous. I don't feel it at all. that money was never mine, It was so clearly a gift from God who delights to surprise us with generosity. But it is awesome. Thanksgiving isn't really enough is it? I just want to tell everyone how amazing and loving God is!"
April 2008
We won the Whitechapel Trophy!
The 2 O'Clock Bells were delighted to win the Whitechapel Bell Foundry Trophy at the Croydon Music Festival on 30th April this year. Having been entering the Handbell class at the Croydon Music Festival since 1998, we have only won the trophy once before; in 2003 when we played "Sakura" and "When The Saints Go Marching In". (Interestingly that year it was also 30th April - perhaps there's a link!) This year we played the Fanfare from Michael Helman's "Suite for Handbells", and "Swing Low, Sweet Chariot", arranged for 2 to 3 octaves of handbells and 2 octaves of hand chimes by our own Angela Jones. This year the Wandle Ringers did not enter their full team, but two smaller teams of Wandle members took part, a four in hand trio and a 10 member team. So the competition was more balanced, and all three teams performed well.
We were also delighted to hear the junior teams in the competition, who both provided some very good music, and we look forward to hearing more from them in future years.
A New Set of Handchimes - November 2007
We're delighted now to be the proud owners of a two octave set of hand chimes, with many thanks to Ann, who has very kindly bought them for the two teams to use, in memory of her mother, Mrs Edna Seaman. We're looking forward to being able to use hand chimes with the bells in some of our Christmas music, and are practising "Silent Night" for bells and handchimes especially arranged for the 2 O'Clock Bells by Sandra Winter.